Presentation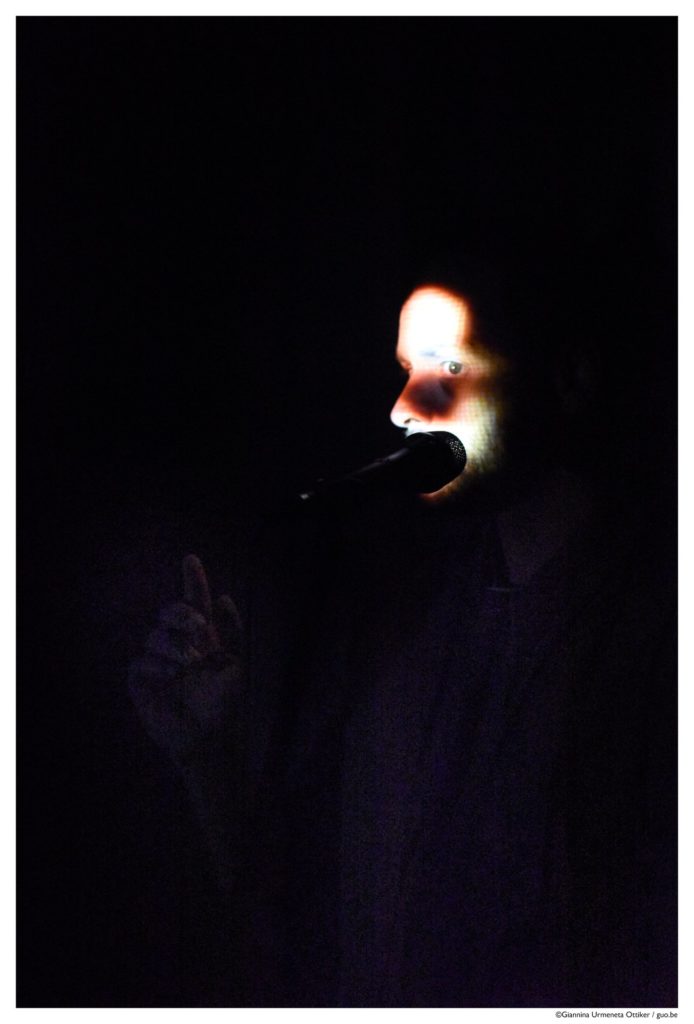 Howling under the Moon
by Mathias Varenne
Une histoire est racontée. Au fur et à mesure où elle nous est livrée, on assiste à sa construction et à sa transformation, comme si elle était perçue à travers un prisme hallucinatoire qui permettrait d'en altérer les mots et les images.
Ce sont ses recherches à L'L sur la poésie de la beat generation et le travail d'Allen Ginsberg qui ont mené l'artiste bruxellois Mathias Varenne à créer Hurler sous la lune. Fasciné par l'importance de l'oralité et de la narration, il interroge ici l'usage consistant à valider une seule version choisie (l'Histoire avec un H majuscule) au détriment de l'existence d'une multiplicité de versions (des histoires). Influencé par les pratiques de la science- fiction, le projet de Mathias Varenne propose une forme de narration originale.
Constitué de texte, de vidéo, de lumière et de son, Hurler sous la lune prend la forme d'un récit progressivement filtré, comme sous l'effet d'une substance chimique ou d'un kaléidoscope. Sa démarche nous rappelle que, enfermé dans ses narrations pragmatiques, notre monde a grand besoin de nouvelles histoires, de nouvelles images et de nouveaux héros.
Hurler sous la lune a le désir de « Ré-écrire », de « Re-dire », de « Re-voir », de « Re-chanter » notre histoire pour tenter de la « trans- former », de voir à travers le réel les possibles qui sont là et que nous n'avions peut-être pas vus la première fois.
Photos
Teaser
Dates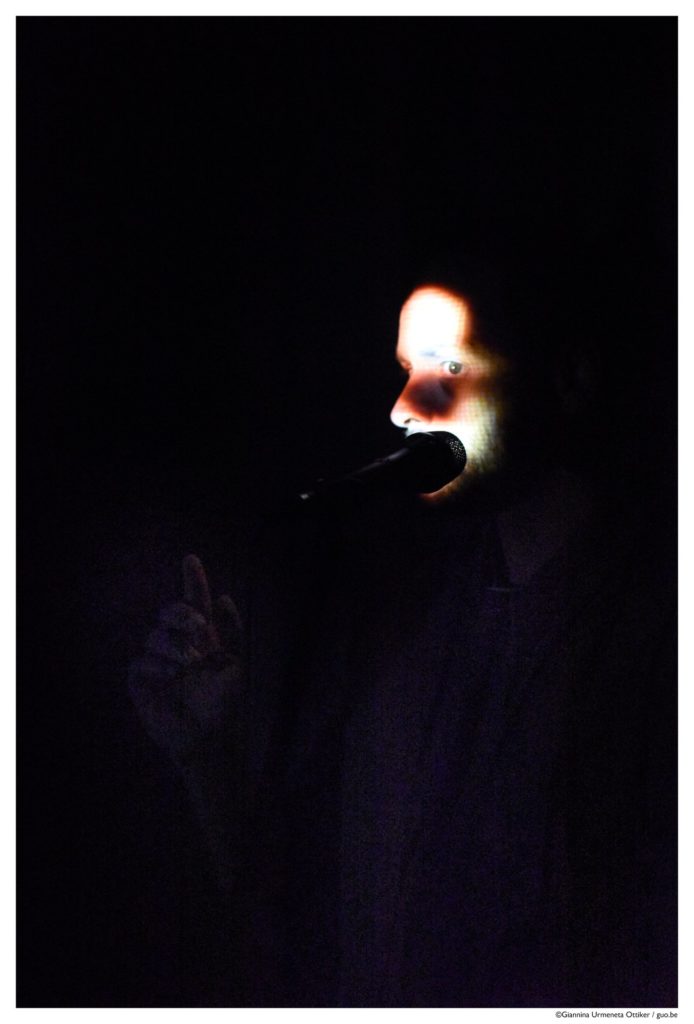 2019
22,23,24,28 et 29 mai – première – L'L, dans le cadre du Kunstenfestivaldesarts

Credits
Author, director, performer: Mathias Varenne
Video-light creator, performer: Damien Petitot
Sound creation, vocal coach, performer: Myriam Pruvot
Scenography: Gaëtan Rusquet
Director assistance: Sophie Maillard
Technical director : Xavier Meeus
Production & diffusion: France Morin/Arts Management Agency
Presentation: Kunstenfestivaldesarts, L'L
Production: Mothership asbl
Artistic accompaniment: L'L
Executive production: Kunstenfestivaldesarts
Coproduction: Coop asbl, Festival Actoral (Marseille) / L'L foundation
Support: Fédération Wallonie-Bruxelles-Service du Théâtre, Tax Shelter of the Belgian Federal Government
Funding and research support by: L'L/Experimental structure for research in performing arts (2013-2018)
Thanks to: Lucille Calmel, Stéphane Gladyszewski, Christophe Haleb, Iannis Heaulme, Olivier Hespel
Mathias Varenne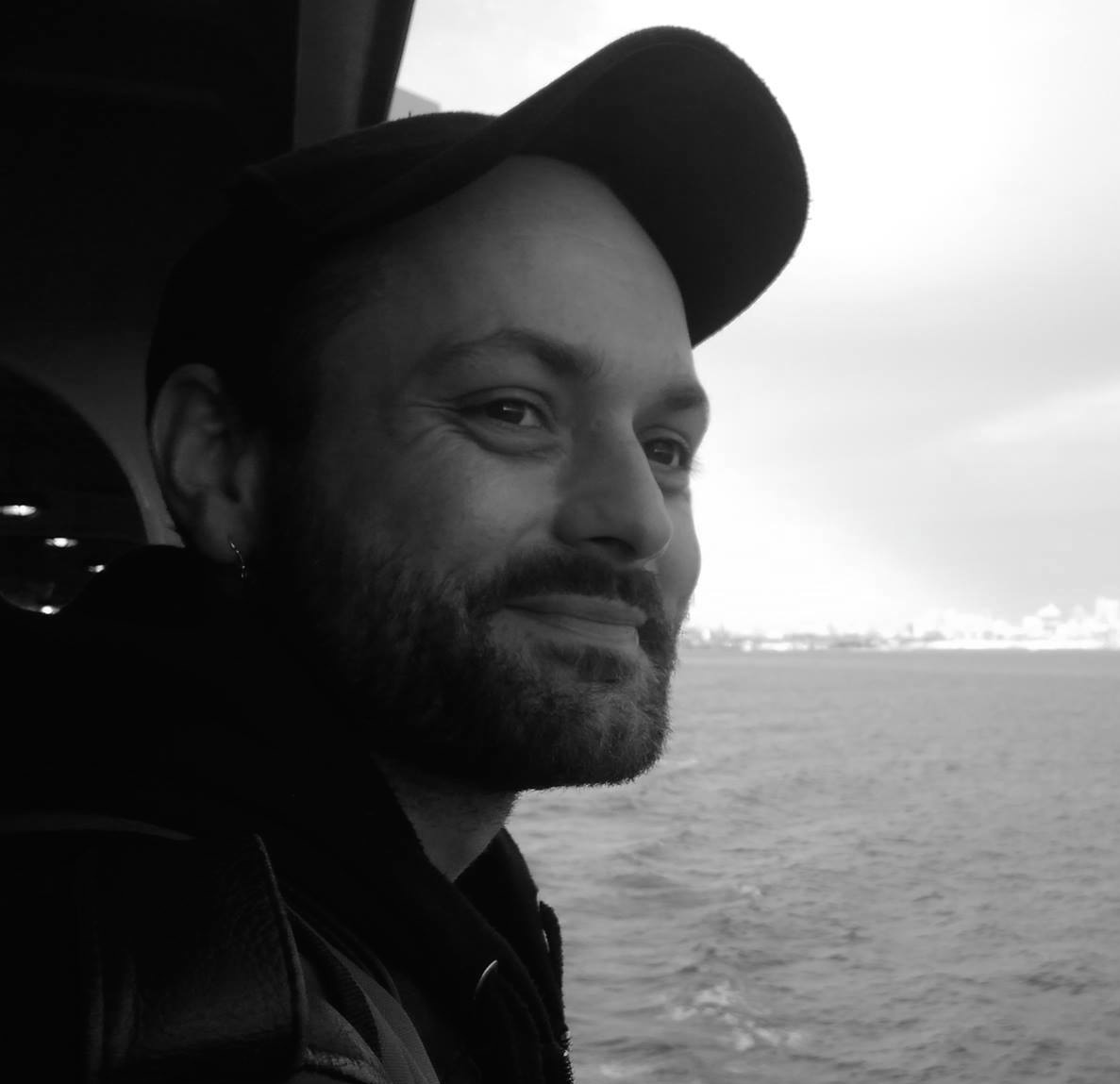 Mathias Varenne
After studying at the École Supérieure d'Acteurs of Liège, Mathias Varenne quickly diversifies his work and is in turn, interpreter (Armel Roussel, Lucille Calmel …), director (The Proof, Redrum, The dream life of Saint Tapiole …), performer (Wojnarowicz remix, Brides, Frau LuLu …), teacher (ESACT) and curator of the Crash-Test performative events in collaboration with Isabelle Bats.
Mathias Varenne likes to question the notion of medium and posture and strives to create common areas of research, where, as in a jazz bands, each participant composes for others and for themselves in order to create dissonances and common rhythms. He likes to focus his research work around themes related to sexuality, femininity and social classes in order to create a dialogue between poetic and politic.
Mathias Varenne – Howling under the Moon