Presentation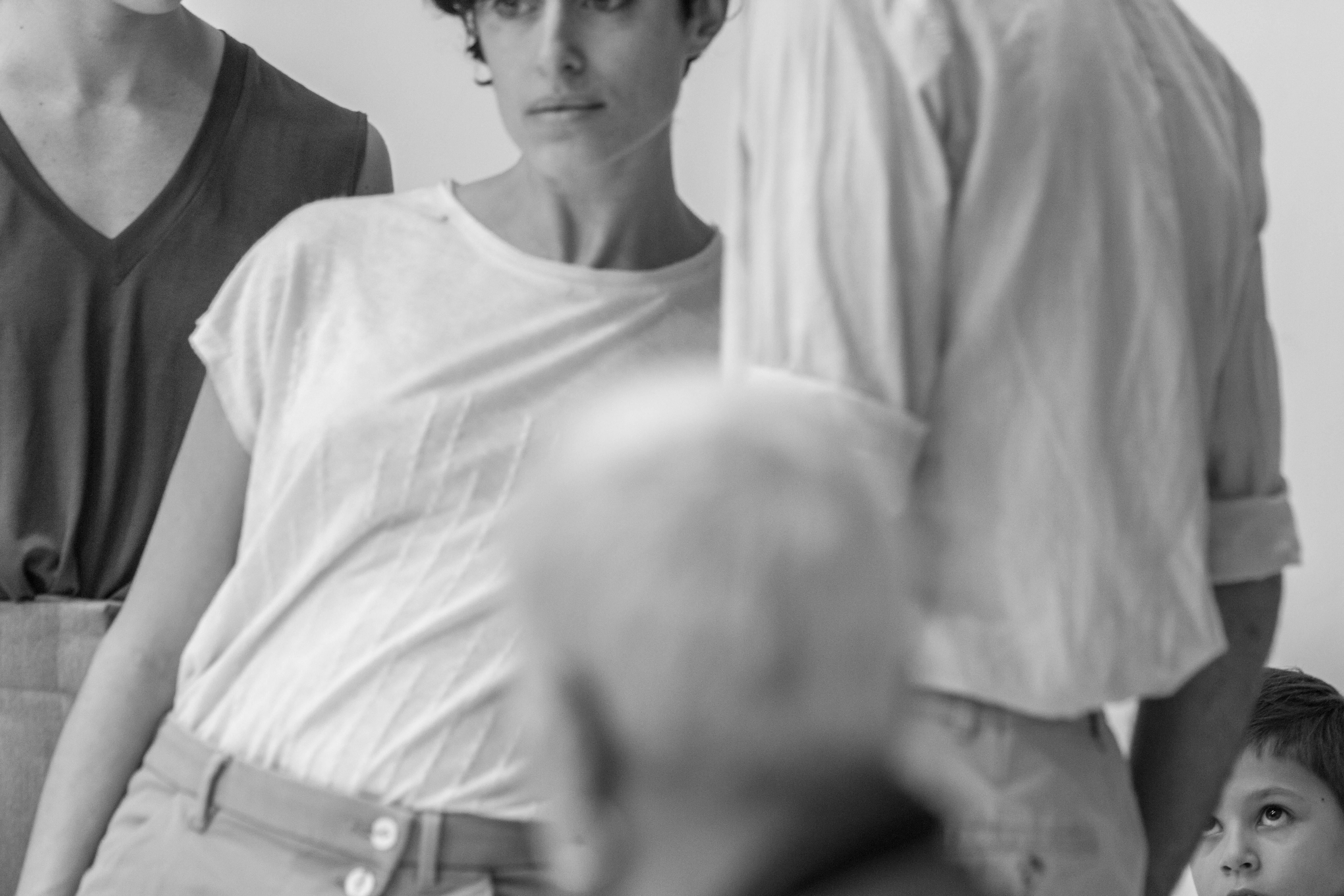 In a brightly lit common space, we discover a trio of dancers already there and a guitarist on the edge of the stage who starts playing saturated notes, elongated in time. The starting point of this piece is a childhood memory buried deep within the body of Meytal Blanaru who grew up on a kibbutz in Israel. Fragments of this childhood, of life organized in community, reappear years later while she is an adult and living in Brussels.
We were the future is a gentle exploration of what constitutes us, the changing and always malleable substance of the memories we create. At her side, Gabriela Ceceña and Ido Batash plunge into the realm of memory as explorers of interior states that they share with us with great sensitivity.
In close proximity, we are ourselves invited to navigate through the substance of fleeting memory, in a piece where the presence of the performers becomes a photosensitive film of our own projections.
Marie Pons – writer, critique
Photos
Teaser
Dates
9 September 2018 – Cristalide Festival, Forli, Italy
29, 30 September 2018 – Fêtes Romanes, Wolubilis, Brussels, Belgium
5 October 2018 – L'Echangeur CDCN, Hauts-de-France, France
14 October 2018 – Korzo, Den Haag, The Netherlands
22 January 2019 – A-CDCN Art Danse – CDCN Dijon Bourgogne, France
30 January 2019 – La place de la danse CDCN Toulouse Occitanie, France
7 February 2019 – Le Pacifique CDCN Grenoble Auvergne Rhône-Alpes, France
9 February 2019 – Les Hivernales CDCN d'Avignon, France
15 March 2019 – Le Gymnase CDCN, Roubaix Hauts-de-France
21 March 2019 – La Manufacture CDCN, Bordeaux Nouvelle Aquitaine, France
26 March 2019 – Pôle Sud CDCN Strasbourg, France
9 et 10 April 2019 – Studio Le Regard du Cygne, Paris, France
14 April 2019 – Touka Danses CDCN, Cayenne, France
14 June 2019 -Festival June Events, Atelier de Paris CDCN, France
16 June 2019 – La Maison CDCN Uzès Gard Occitanie, France
22 June 2019 – Broek Festival / Nona, Mechelen, Belgium
30 January 2020 – Centre culturel André Malraux, Scène national de Vandoeuvre-les-Nancy, France
Crédits
Concept, choreography & interpretation
Meytal Blanaru
Interpretation
Gabriela Cecena, Ido Batash, Meytal Blanaru
Live music
Benjamin Sauzereau
Dramaturgy
Olivier Hespel
Coproduction
Les Brigittines, La Briqueterie – CDCN du Val-deMarne, Théâtre Jean Vilar de Vitry-sur-Seine, A-CDCN (Art Danse – CDCN Dijon Bourgogne, La Briqueterie – CDCN du Val-de Marne, L'Echangeur CDCN Hauts de France, Le Gymnase – CDCN Roubaix Hauts de France, Les Hivernales CDCN d'Avignon, La Manufacture – CDCN Bordeaux Nouvelle Aquitaine, Le Pacifique – CDCN Grenoble Auvergne Rhône-Alpes, CDCN Atelier de Paris, Pôle Sud – CDCN Strasbourg, La place de la danse – CDCN Toulouse Occitanie, La Maison CDCN Uzès Gard Occitanie, Touka Danse CDCN Guyane).
With the help of
Wolubilis, la Fédération Wallonie-Bruxelles – Service de la danse
Meytal Blanaru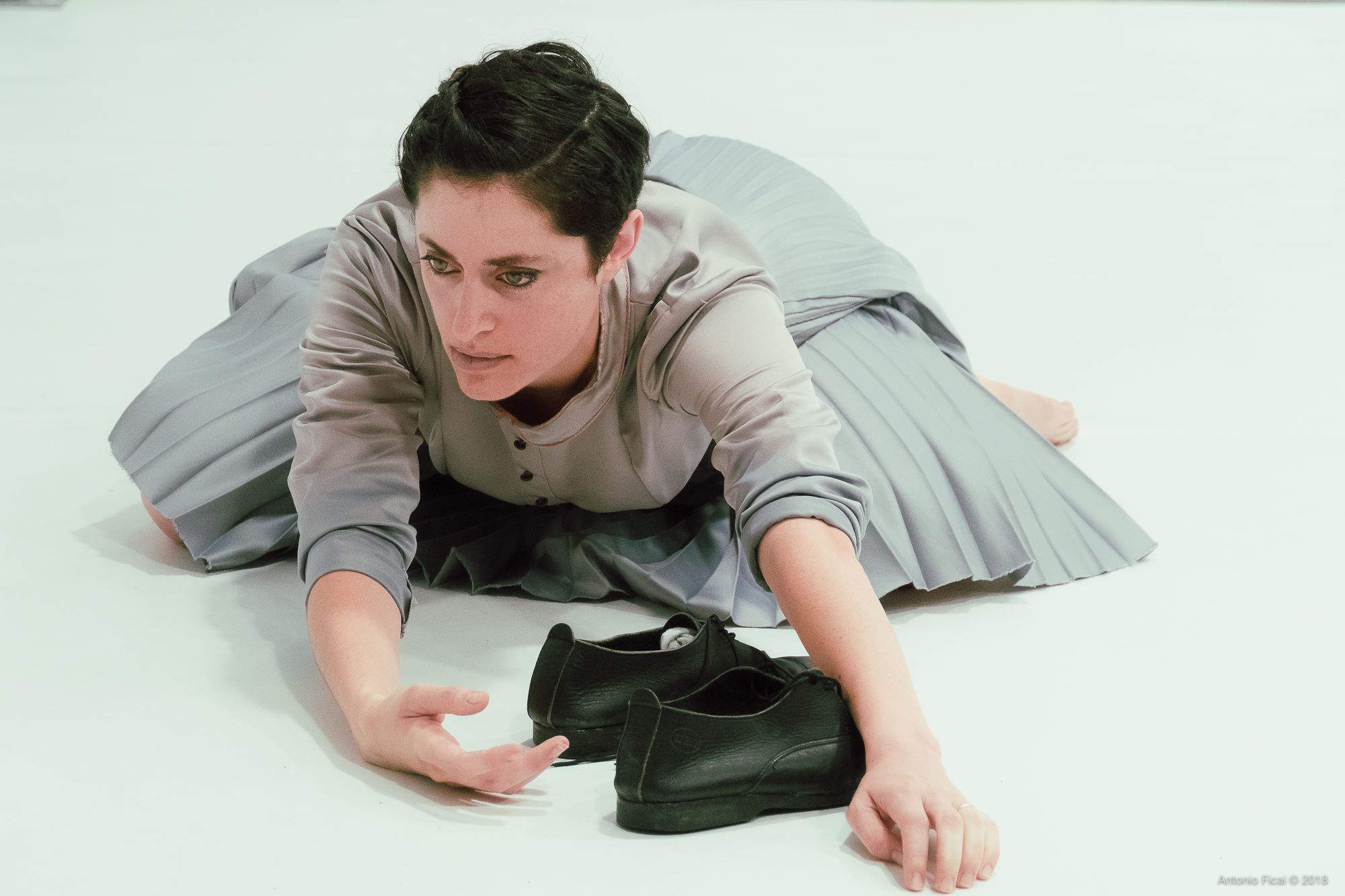 Born in Israel in 1982, Meytal Blanaru is a Brussels based dancer, choreographer and and the founder of FATHOM HIGH. Since creating her first solo Lilly in 2008, she has been developing a personal movement research that has changed profoundly the way she moves and perceives the body. Starting from the Feldenkrais method, her curiosity to create a fusion between Feldenkrais and dance led her to slowly build a very specific artistic approach and a movement technique called FATHOM HIGH. In 2011, she creates a second solo AURORA, which is still touring today in 2018. AURORA has been selected to the prestigious AEROWAVES platform/Priority list 2015. In 2015, she creates SAND, her first group creation based on her technique, with students from the Salzburg Experimental Academy of Dance. In 2017, Meytal creates ANITYA, a group piece within the framework of Dankse project, initiated by DansCentrumJette, with eight young dancers. Since her arrival to Europe in 2009, she also works as a dancer and collaborator with Samuel Lefeuvre (Group Entorse), Lisi Estaras (Ballets C of the B), Damien Jalet (Eastman Dance Company), Roberto Olivan, Clara Furey and Martin Kilvady. Meytal's new creation WE WERE THE FUTURE has been selected for the French CDCN Association Co-production 2018, offering a vast network of theaters that support and program the piece for the season 18/19.
Meytal Blanaru – We Were the Future