Presentation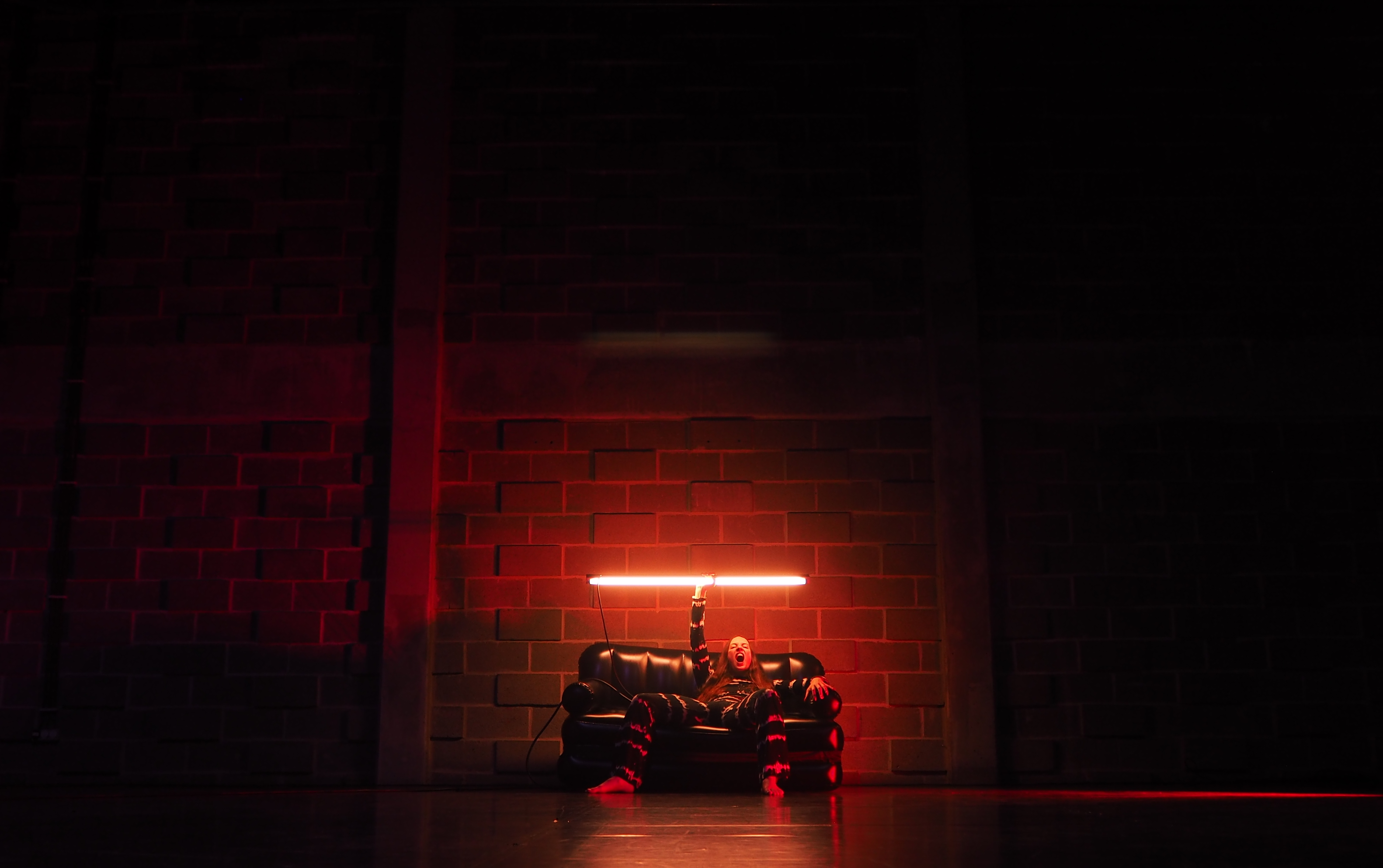 B4 summer
by Mercedes Dassy
In a highly desired process of engagement in a global struggle, B4 summer is a rallying cry. An emotional cry about the endless challenges of engagement. How to tackle the complexity of this topic in its entirety? How to allow oneself to be overwhelmed by chaos without flinching? How to honestly negotiate the feelings of vulnerability and powerlessness you are plunged into? How to measure the authenticity and legitimacy of one's engagement? Mercedes Dassy uses her body as a weapon, as a tool, as an obstacle, as a space of exploration and also as a subject-object, in an attempt to articulate this cry.
Influenced by a wide variety of aesthetic and artistic sources (pop culture, music, post-Internet art, etc.), the Brussels-based choreographer and dancer Mercedes Dassy presents B4 summer as the second phase in a cycle of performances. In her previous work, i-Clit, Dassy explored a new wave of ultra-connected and ultra-sexual feminism in order to question the ambivalent power of emancipation and oppression. The dancer inscribes her new creation as a continuation of this quest, drawing inspiration from real, symbolic and fictional representatives to investigate our (in)capacity to act and engage.
« Changer le monde. Une idée, un projet, des organisations, pendant un moment il a été même question de victoire. L'histoire semblait enceinte de vérité. Nous sommes venus après, enfants de la désillusion et des mauvais rêves. Le renversement du capitalisme était avorté, son désir même rentrait en phase de désintégration symbolique. Les mots étaient trop usés quand ils n'étaient pas trop sages. Alors ils nous ont appris à crier. » Printemps précaires des peuples, Maria Kakkogianni.
Photos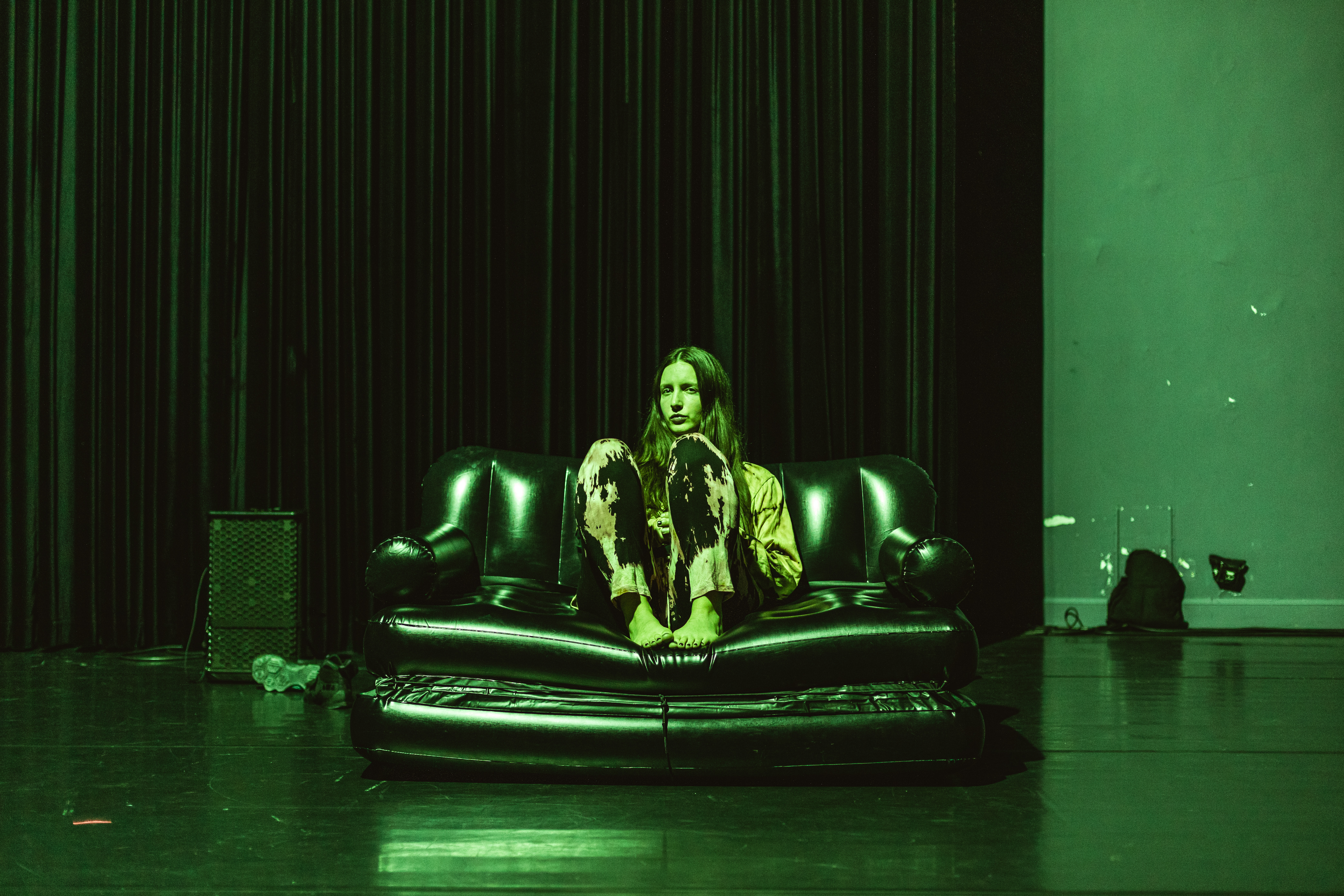 (c) Michiel Devijver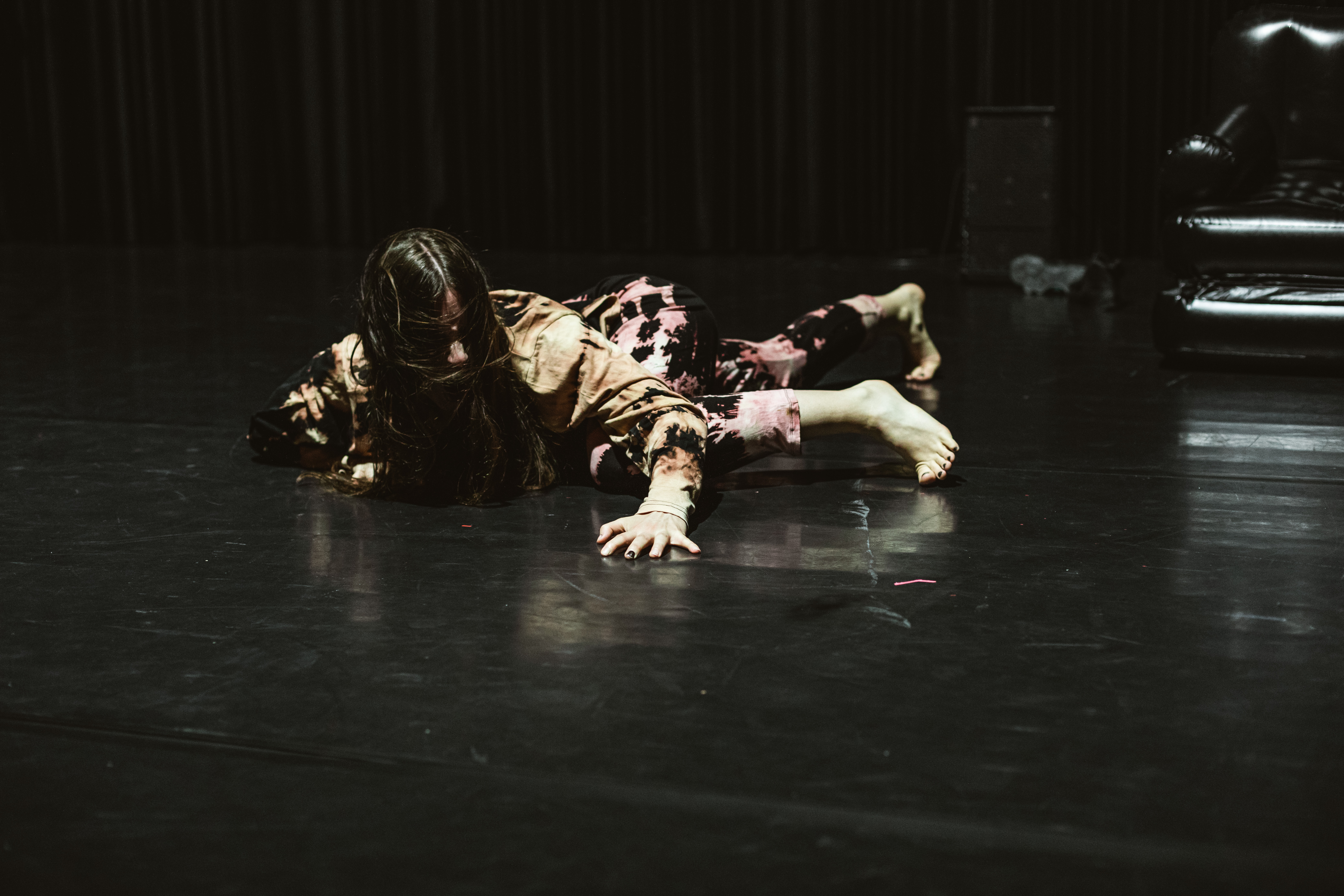 (c) Michiel Devijver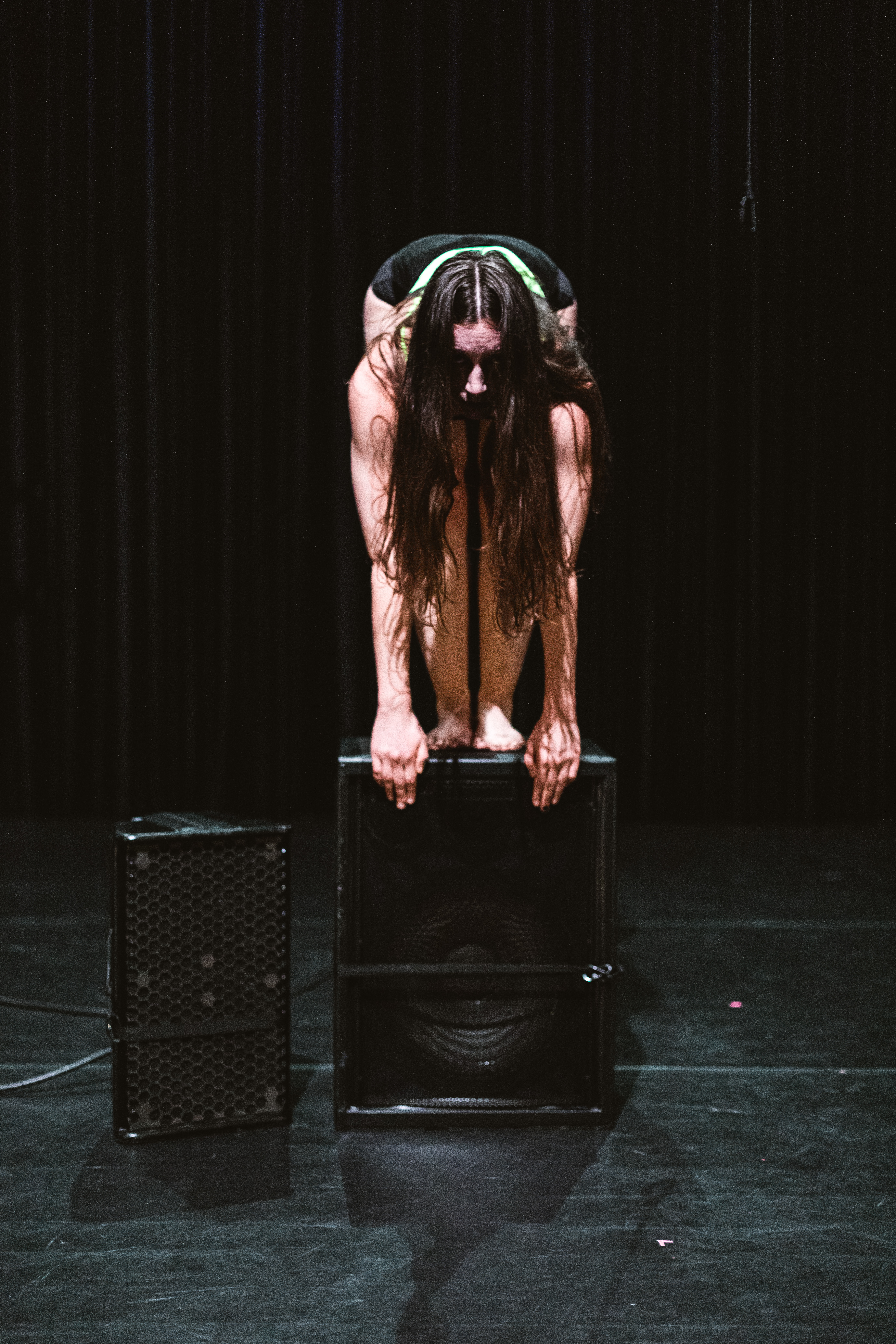 (c) Michiel Devijver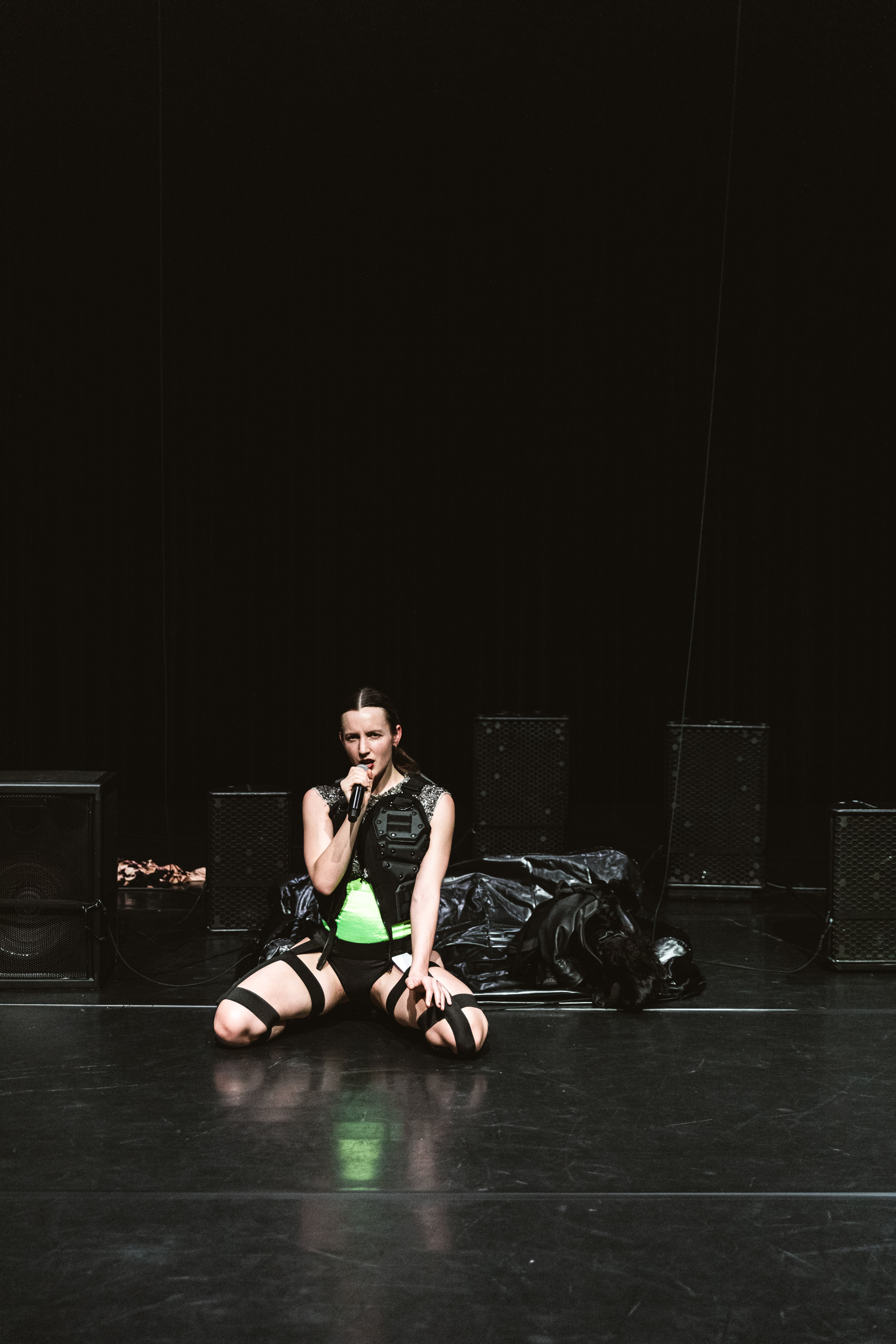 (c) Michiel Devijver
Teaser
Dates
22 & 23 January 2020 – Vooruit, Gand, Pré-premières (BE)
31 January & 1st February 2020 – Théâtre de Liège – Opening of Festival Pays de danse – PREMIERE (BE)
4 – 8 February 2020 – Théâtre La Balsamine, Brussels (BE)
3 April 2020 – MARS-Mons Arts de la scène – Festival DEMAIN (BE)
1st September 2021 – PROPULSES – W:Halll/Brussels (BE)
20 November 2021 – CONCOURS PODIUM, La Rampe, Echirolles (FR)
18 December 2021 – Centre culturel Jacques Franck, Brussels (BE)
6 May 2023 – KLAP, Marseille (FR)
Crédits
Concept, choreography & interpretation
Mercedes Dassy
Dramaturgy, artistic advice
Sabine Cmelniski
Sound creation
Clément Braive,
Light creation
Caroline Mathieu
Costumes, accessories et scenography
Justine Denos
Repetitor, outside view, voice coach
Judith Williquet aka Judith Kiddo
Outside view
Jill De Muelenaere
Distribution
Arts Management Agency (AMA) – France Morin, Anna Six
Associate production
Arts Management Agency / Théâtre La Balsamine
Coproduction
Théâtre de Liège, Théâtre La Balsamine , Kunstencentrum Vooruit, Charleroi danse, Mars – Mons arts de la scène, La Coop asbl
With the support of
Fédération Wallonie – Bruxelles Dance Department, [e]utopia, BAMP, Shelterprod, taxshelter.be , ING and Tax shelter service of Federal Belgian Government.
Photo : Michiel Devijver
Presse
"B4 Summer", the body's cry, from entrails to outer shell
La Libre Belgique
Review by Marie Baudet
The new solo by Mercedes Dassy emits waves of dark and flamboyant energy
Opening the Pays de danses festival with the Hans Van Manen evening was a master stroke: cries of joy and a standing ovation greeted the venerable Dutch choreographer and the wonderful dancers of the Companhia Nacional de Bailado who brought three of his timeless, elegant and euphoric pieces to life.
But the Théâtre de Liège did not just respond – as relevant and fun as it was – to the enthusiastic demands of its audience for neoclassical dance. After the Vooruit in Ghent and before the Balsamine in Brussels, it presented in the early evening of Friday and Saturday, the new creation by Mercedes Dassy. Since her highly acclaimed solo, i-Clit (winner of the Jo Dekmine Prize in 2018), the young Brussels dancer and choreographer – co-creator with Tom Adjibi of the duo TWYXX and performer for among others Lisbeth Gruwez (AH/HA), Oriane Varak (As a Mother of Fact) and Leslie Mannès (Forces) – tackles questions connected to feminism, crudely anchored in the present: pop culture, sexuality, engagement, consumerism… This is also the case for B4 Summer, part of the cycle that began with i-Clit.
A pulley, cables and a microphone hang above a stage strewn with loudspeakers and a sofa. A body begins to move, squeaks and slides across the shiny surface. The soundtrack growls, rumbles, whines, yowls. The body leaves the surfaces to begin a powerful, liberated Sabbath. Her loose costume is torn off to reveal a swimsuit for her future plunge into unbearable pain. Her cry now fills the space, animal but nevertheless brutally human, and it is gradually echoed by the scattered loudspeakers, before becoming unpityingly techno.
A fierce transformative presence
Mercedes Dassy uses the body – from its entrails to its outer shell – as a vector of profuse thinking translated by a fierce transformative presence, sometimes stubbornly mute, sometimes talkative. As an accurate image of "choreographic, political and aesthetic triangulation", this new piece, although not flawless, condenses telluric power, ironic extravagance and poetic suspension. The opening of the Pays de danses festival contained the same corporality, rigour, freedom, cry and audacity, indicating the wide horizons this Euro regional festival wants to embrace. Unrestrained and iconoclastic, the intense presence of Mercedes Dassy can now be experienced at the Balsamine as part of the vast programme of Brussels Dance.
Mercedes Dassy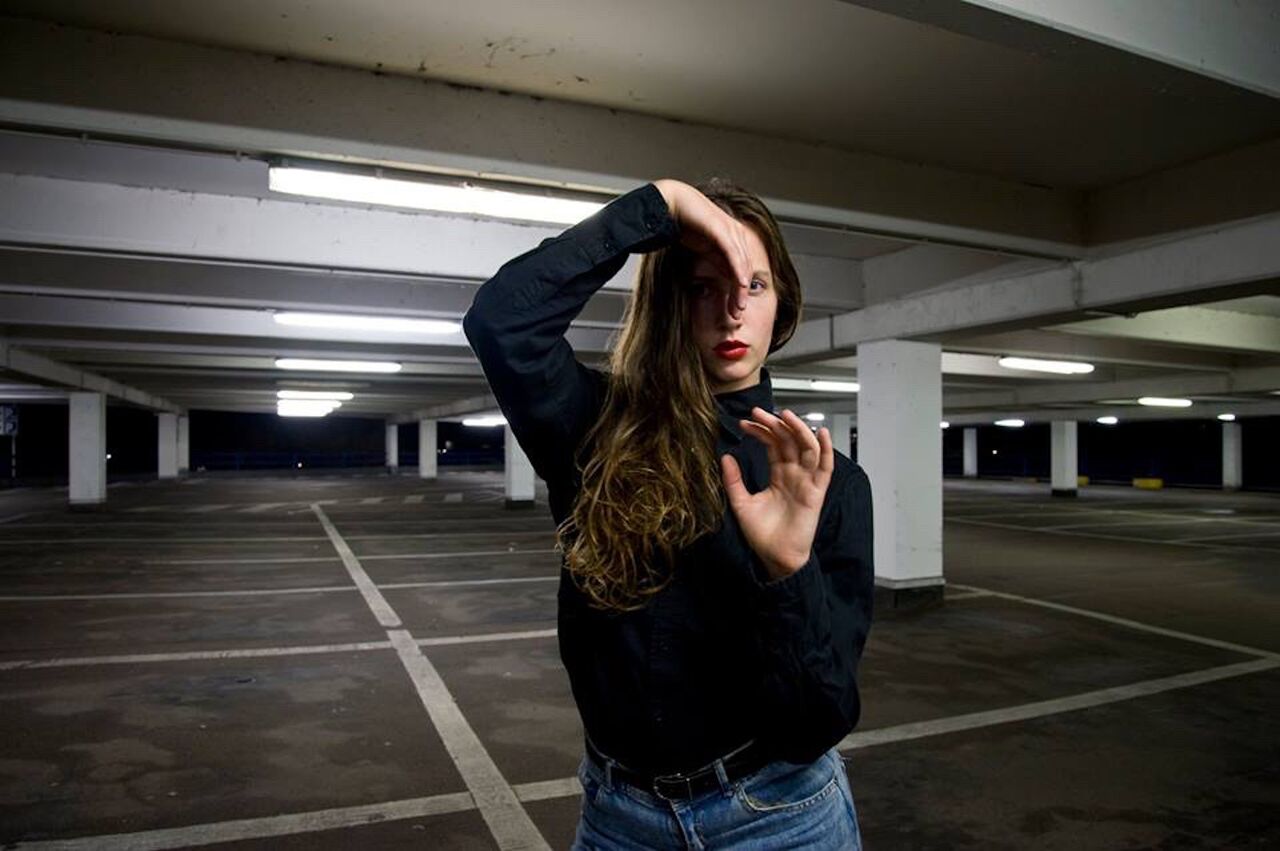 Mercedes Dassy
(1990, Brussels) is a dancer, active in the fields of dance, theater, performance and video. In 2009, she enters the S.E.A.D. Salzburg Experimental Academy of Dance and joins a Summer Program in Tisch School of Art/Dance Department – New York University. Back to Brussels in 2012, she works with Voetvolk/Lisbeth Gruwez (AH/HA), Compagnie3637 (Eldorado, L'Enfant qui), Matej Kejzar (raive), Cie PHOS/PHOR (La compatibilité du caméléon), Lucile Charnier (L'Appel du Mutant), Valéry Carnoy (Projet Genêts), MUGWUMP, Justine Denos (APOIL), Notch company/Oriane Varak (As a Mother of Fact) and soon with Leslie Mannès (FORCES).
Since 2014, Mercedes Dassy also started her own work with PAUSE, solo created in the frame of Museum Night Fever in Brussels. She then creates her solo i – c
l i t, presented at La Balsamine as part of Festival Brussels, dance! 2018. I-clit was supported by La Balsamine, Charleroi Danse and the Ministry of Culture, Dance Department. This solo was also nominated for Critics' Award 2018. In September 2019, she presented TWYXX in collaboration with the actor Tom Adjibi at the Théâtre de Namur. This duet is supported by the interdisciplinary council of performing arts (CIAS – Fédération Wallonie Bruxelles). Another creation : B4 summer, a new solo from and with Mercedes Dassy (2020).
Her work generally deals with topics such as the new ultra- sexualised and ultra-connected wave of feminism, relational engagement in an overly consumerist society or the relationship of her generation to engagement, and is organised in a triangulation of choreographic, politics and aesthetics elements. In July 2018, Mercedes Dassy was awarded the Jo Dekmine prize for promising creations and artists by Théâtre des Doms, in Avignon.
Mercedes Dassy – B4 summer