Presentation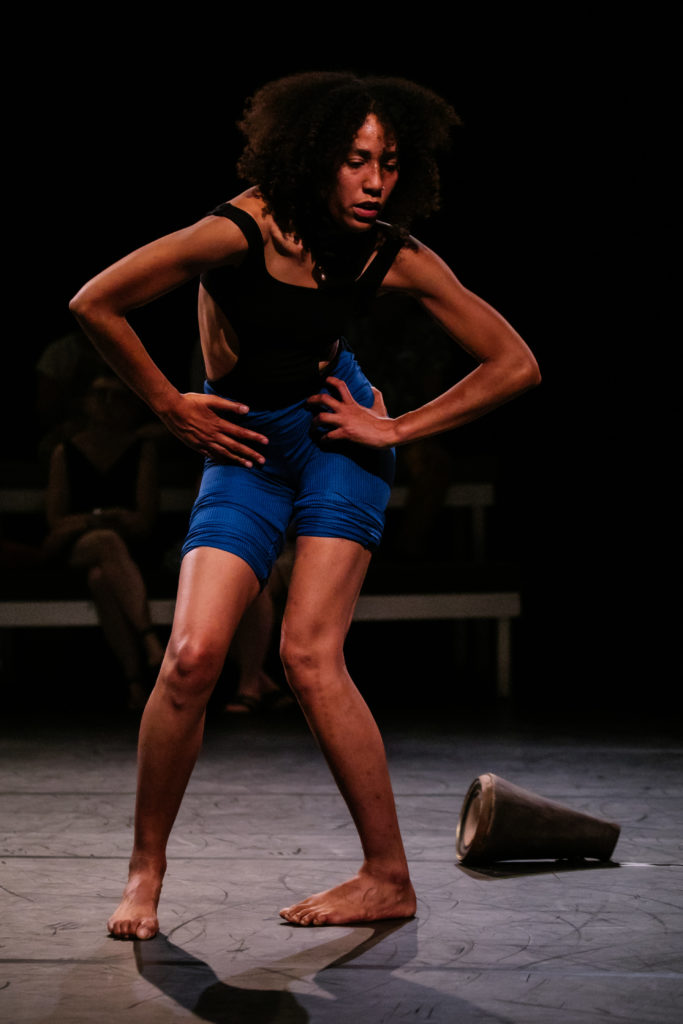 Water, l'atterrée des eaux vives
by Castélie Yalombo
Everything in Castélie Yalombo's choreography is unstable. She is alone on stage, but her body seems to be manipulated from the outside. Her movements are disjointed: suddenly, with her eyes closed in front of a basin of water, she shapes her limbs and movements as if her body is guided by conflicting forces. With this performance, Yalombo creates a choreography of rare power. Starting from the relationship with her own identity – born in Belgium to a Belgian mother and a Congolese father – she undertakes what she defines as her odyssey in the space of a mixed identity. In front of the audience, her body is crossed by various historical references, but they dissolve every time to claim a singularity more complex than fixed categories. She moves in a space surrounded by clay sculptures, whose colours evoke different tones of skin, while the forms bring to mind a body's matter before it takes shape, before it is enclosed in a distinct identity. She moves between one image and another in a unique, hypnotic fashion until she becomes a clown, the only figure authorized to speak outside the box. After graduating from ISAC and working as an interpreter for Louise Vanneste, Water, l'atterrée des eaux vives marks Yalombo's first appearance at the festival. It is an ode to ambiguity from a rising voice in Belgian choreography.
Interview :
Photos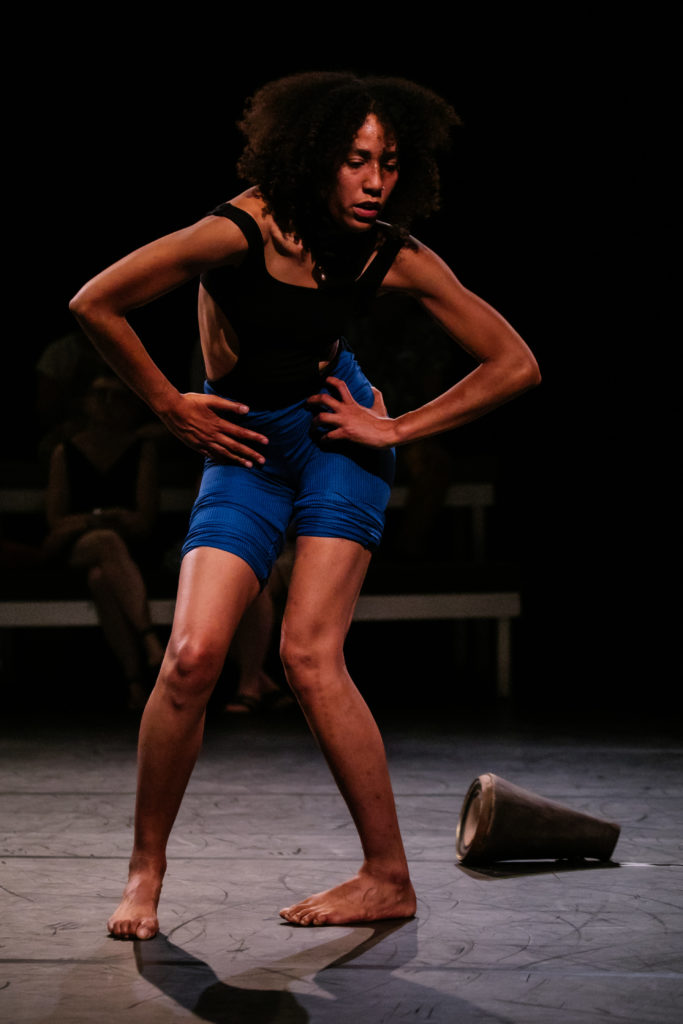 © JonasVerbeke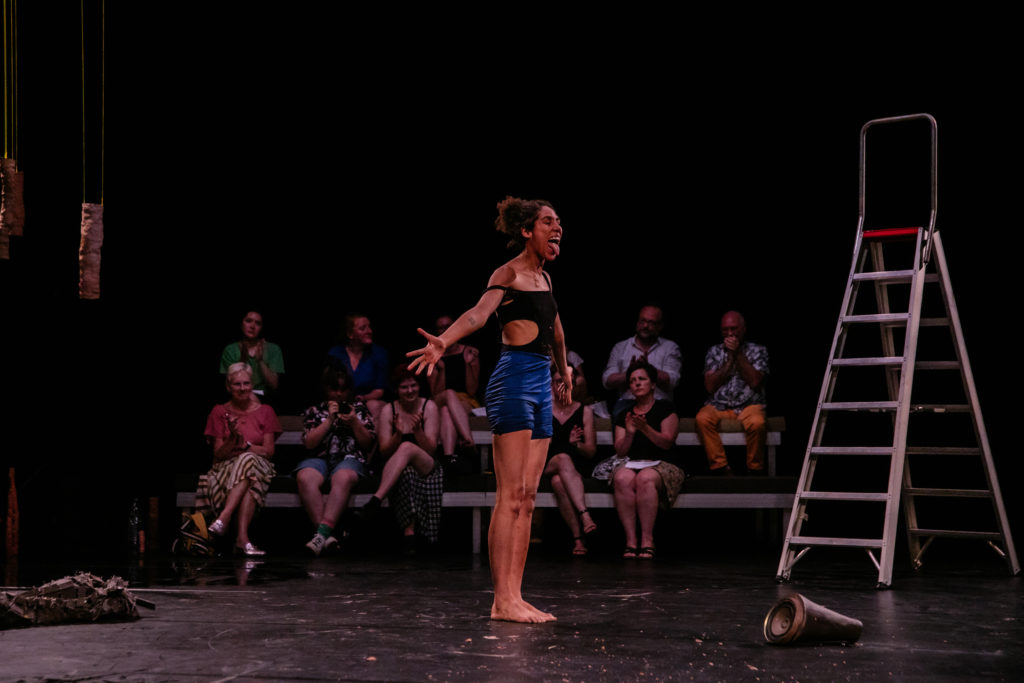 © JonasVerbeke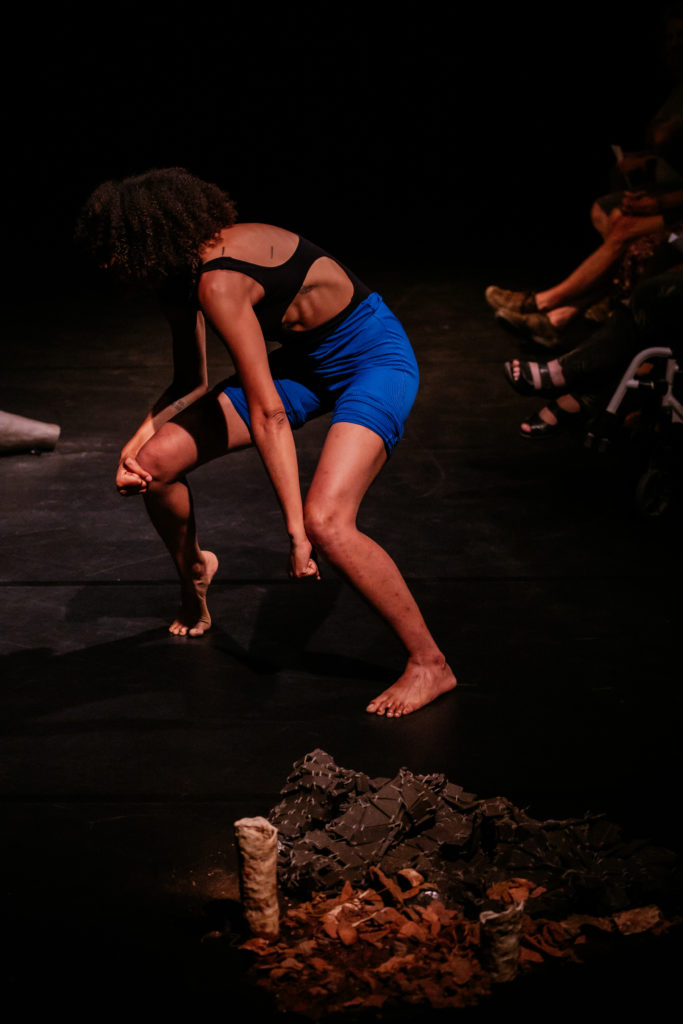 © JonasVerbeke
Teaser
Dates
Try out (by invitation)
24 April 2022, Journée de la Danse, Kunstenwerkplaats, Brussels
Tour
15 May 2022, Kunstenfestivaldesarts – la Raffinerie, Charleroi danse, Brussels
17 May 2022, Kunstenfestivaldesarts – la Raffinerie, Charleroi danse, Brussels
18 May 2022, Kunstenfestivaldesarts – la Raffinerie, Charleroi danse, Brussels
19 May 2022, Kunstenfestivaldesarts – la Raffinerie, Charleroi danse, Brussels
20 May 2022, Kunstenfestivaldesarts – la Raffinerie, Charleroi danse, Brussels
1st June 2022, June Events, Paris
18 June 2022, Kunstencentrum BUDA, Almost Summer festival, Kortrijk
11 September 2022, Plastic Danse Flore, Versailles
17 March 2023, Points communs – scène nationale de Cergy-Pontoise
Credits
Choreography
Castélie Yalombo
Musician
Loucka Ellie Fiagan
Sound spatialization
Lucile Grésil
Ceramics, scenography
Sophie Farza
Dramaturgy
Jean Lesca
Coach clown
Anna Kuch
Assistant choreography
Anja Rottgerkamp
Production, tour
Arts Management Agency (AMA) – France Morin, Anna Six
In collaboration with Kunstenwerkplaats | Coproduction: Kunstenfestivaldesarts, Charleroi danse, Atelier 210, KWP Kunstenwerkplaats, Rising Horses
With the support of: Studio Etangs Noirs, Rising Horses, Les Brigittines, workspacebrussels, Kunstencentrum BUDA, Fédération Wallonie-Bruxelles – Service général de la Création artistique, VGC, Wallonie-Bruxelles International.
Castélie Yalombo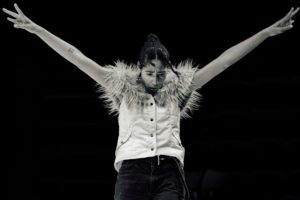 Castélie Yalombo Lilonge is a Spanish / Belgian / Congolese artist, born and living in Brussels. Graduated from ULB as well as a Master from the Higher Institute of Choreographic Arts of ARBA- ESA in 2020. She collaborates as a dancer-performer, external gaze, co-creator. Her artistic practice is at the intersection of choreography (in its broader meaning), installation and poetic speech.
She questions the status of identity, otherness and relationship, as well as the subject / object status of the body. A questioning that she anchors in research on the capacity for kinaesthetic empathy at play in the gaze-gazed relationship.
In 2019, she interned with Congolese artist Faustin Linyekula for the play Histoire du Théâtre II, a co-production by NTGhent, and premiered at the Avignon festival. This play helps Castélie to raise awareness of decolonial questioning, and more particularly of the need for a re-articulation of the narratives of our identities in the great network of Forgotten, Confiscated, Hidden and Dominant Histories.
In 2021, she begins to collaborate with the artist-choreographer Louise Vanneste for the creation Earths premiered in October 2021 at Charleroi danse. Earths deploys a choreographic writing of listening and attention to the imagination, to the co-presence of the dancers and their environment. This practice of movement is anchored in the personal research of the artist on presence and empathy.
She participates from August 2020 in the project Ne mosquito pas managed by Simon Van Schuylenbergh & co. She creates two solos there and accompanies the transmissions of the practice of "the art of failure"; performative practice aimed at criticizing the standards of the success of our society by questioning what constitutes our standards of good and bad tastes.
In 2020 and 2021, the Ne mosquito Pas Summer Tour took place in Brussels and Flanders, (Artist Commons, Decoratelier, Cureghem, Buda Kortijk, De Singe…).
Between 2018 and 2021, she works in parallel to the creation of several performances, most often solo or in duo. Close your eyes in 2018 (reworked later under the name of cleaners of the shade: water, including a duo version presented during the Congolisation festival at KVS in January 2020) and "This is my body delivered for you" in 2019.
In 2021, she receives support from Charleroi danse, the Kunstenfestivaldesarts and Kunstwerkplaats for the creation of a longer version of the Water project, which will premiere in May 2022.
Castélie Yalombo -Water, l'atterrée des eaux vives